Motor-powered leg and upper body exerciser
The THERA-Trainer Bemo is a therapy device for circular passive, assistive or active movement of the upper and lower extremities, including symmetry display and spasm detection. The therapy device helps to mobilise patients whose mobility is restricted after accidents, operations or general illnesses affecting the musculoskeletal system. The THERA-Trainer Bemo is also used for mobilisation during dialysis.
Early mobilization improves not only the functional outcome of these patients in the long term but also the degree of alertness. Timely exercise therapy shortens the duration of intensive care. The therapist can mobilize the patient effortlessly and flexibly. The trainer can be adjusted quickly and individually to the patient.
Important therapy goals
> Stabilize pulmonary functions
> Reduce complications in intensive care
> Activate metabolism
> Improve functional outcome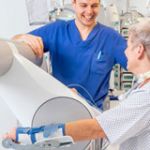 HIGH VARIABILITY
Patients can train arms or legs in a recumbent or semi-recumbent position, whether in clinics, care facilities, therapy practices or dialysis centres. The THERA-Trainer Bemo is designed for bed widths of up to 115 cm – but still requires little space.
Easy hygiene
Fast cleaning thanks to closed surfaces – ideal for rapid disinfection.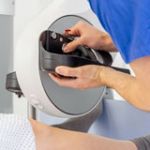 QUICK SET-UP
The electric height adjustment using the control and display unit, together with T.assist and T.drive and sensor-controlled distance detection, means training can start within minutes. The trainer can be adapted to the patient ergonomically, easily, and quickly. In addition, the tool-free plug-in system for accessories, automatic accessory and range of movement detection enable a quick and easy change between desired training settings and modalities.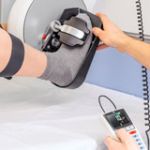 SAFE TRAINING
T.drive is the new safe and powerful drive technology for leg and upper body training without shearing points. Including a tool-free plug-in system for accessories, automatic accessory, and range of movement detection, support technology for assistive and passive training, 300-watt motor, and harmonic rotation.
T.assist
The T.assist system makes safe therapy as easy as child's play: It supports you with an additional sensor for distance detection between trainer and patient, audio-visual signals, and an optical positioning aid – so that you are always on the safe side.

BEST practice with thera-trainer
This THERA-Trainer can be part of your THERA-Trainer complete solution
We are offering products and solutions for all phases of rehabilitation and transferring scientific results in clinical practice.
With our THERA-Trainer Complete Solution you can put the evidence-based, clinically tested treatment concept for lower limbs into practice. It simplifies the work of the therapists, maximises the chance of success for patients and establishes the clinical researches to your clinical practice, and can be implemented in each rehabilitation hospital in an economical and sustainable way.
FILL the FORM to Download important support documents