THERA-Trainer Complete Solution

The THERA-Trainer Complete Solution is a group therapy concept at all stages offering the opportunity to train strength, endurance and mobility, balance, standing, and walking task-orientated with the help of the latest robotic and computer technology.
State-of-the-Art Rehabilitation
Our solution can be implemented in every rehabilitation center in an economically sustainable manner. Because of systematic restructuring and implementation of selected treatment pathways the therapy intensity is significantly increased – at unchanged staff assignment! While realizing significant efficiency gains, this allows patients to achieve the best outcome possible.
(Process) Innovation instead of extra work
Rehabilitation centers that have started working with our solution have tremendously improved their results after just a few weeks. Also in your hospital, we will achieve improvements by higher utilization and higher therapy with an optimized therapist-to-patients ratio significant. All at measurably lower costs, greatly improved efficiency, and increasing satisfaction of therapists and patients alike – whether in inpatient rehabilitation in clinics or in outpatient rehabilitation facilities.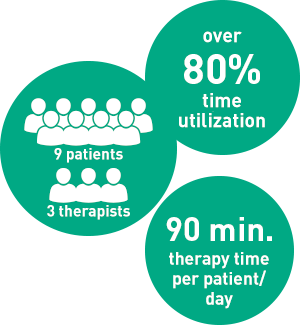 Important therapy goals
Regaining the ability to walk

Increase the walking speed

Improve stamina

Improving the gait pattern
Effective – simple – affordable
The extremely simple operation and the fast transfer make the operation economical even under everyday conditions. Without the cumbersome donning of an exoskeleton, the preparation times are minimal. This enables a higher therapy density with comparatively low acquisition and operating costs.
FILL the FORM to Download important support documents