Motor-powered leg and upper body exerciser
The THERA-Trainer Tigo enables people with individual requirements to exercise their legs or upper body with or without motorized assistance – from their chair or wheelchair. It gently encourages mobility and has a positive effect on many other aspects of health.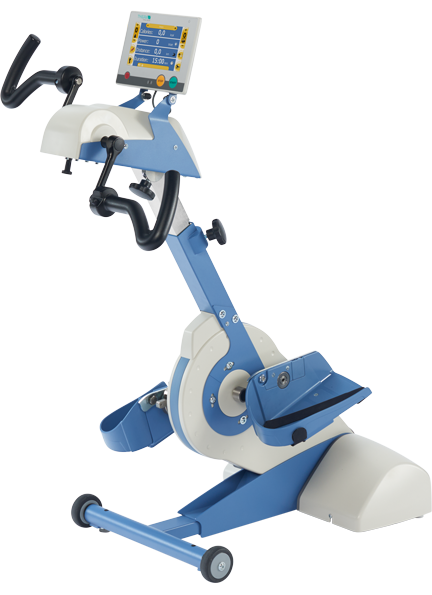 Regular power, endurance, and mobility training with THERA-Trainer Tigo facilitates functional recovery and improved motor skills and helps therapists and patients achieve their therapy goals. This movement exerciser allows effective exercise in all phases of rehabilitation.
The versatile leg and arm trainer has been developed for daily use at home or in medical facilities. It meets the latest quality and safety standards. It is particularly suitable for high-need patients thanks to its extensive software and accessories. The THERA-Trainer Tigo is available in different models with additional equipment. You will be impressed by its benefits!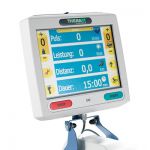 Intuitive control
The screen is the interface between people and technology. Our developers attach great importance not only to modern screen technology but also to easy handling and clear screen displays.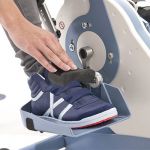 THERA-Trainer foot fixing
You can secure your feet in the footrests easily and safely without causing pressure sores.  Another safety aspect is that the foot can be quickly released again. We have developed the perfect solution for you and tested it in the toughest of conditions – see for yourself!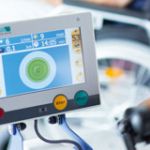 Biofeedback
With the biofeedback programs, users learn how to detect bodily functions, which otherwise go unnoticed. Processes, activities, and signals in the body (bio) can be detected using feedback.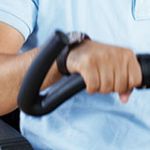 Therapy grips & armrests
The therapy grip allows you to maintain a comfortable posture with three different grip positions. If you can't hold onto the therapy grip with your hands, you can secure your lower arm to an armrest.
This is the best way to secure paralyzed or weak hands. All therapy grips or armrests can be changed without the use of tools and are easy to wash.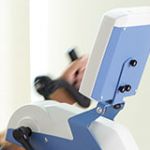 Ergonomic all-rounder
With the THERA-Trainer Tigo, all necessary adjustments can be made quickly and easily. The height and distance of the safety handle and the upper body exerciser can be individually adjusted to suit your height.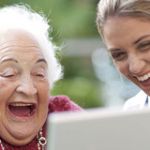 Motivating Software
THERA-soft is a therapy and documentation software specially developed for THERA-Trainers of the product lines Cycling and Standing & Balancing. Depending on the setting of the treatment and the therapeutic goal, in combination with a THERA-Trainer, the software provides numerous biofeedback illustrations and movement exercises that specifically support relearning motor skills and motivate patients to train with joy.

BEST practise with thera-trainer
This THERA-Trainer can be part of your THERA-Trainer complete solution
We are offering products and solutions for all phases of rehabilitation and transferring scientific results in clinical practice.
With our THERA-Trainer Complete Solution you can put the evidence-based, clinically tested treatment concept for lower limbs into practice. It simplifies the work of the therapists, maximizes the chance of success for patients and establishes the clinical researches to your clinical practice, and can be implemented in each rehabilitation hospital in an economical and sustainable way.
FILL the FORM to Download important support documents