The compact leg and upper body
exerciser with motor
This small all-rounder device equipped with a high-performance motor, enabling motor-operated (passive), motor-assisted or active movement training (with your own muscle power) for legs or upper body.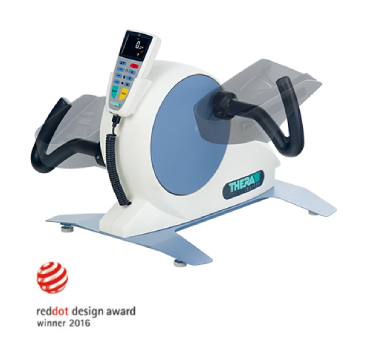 THERA-Trainer Mobi is a powered training device using cyclical movement actively and/or passively mobilizing the upper or lower extremities to redevelop muscles, restore motion to joints and improve the cardiovascular function.
The THERA-Trainer Mobi is generally suitable for walkers with slight movement restrictions such as those with minor, general age-related weakness or with mild symptoms of different illnesses. Gain and increase strength, endurance, and metabolism and become active whenever it's convenient – from your chair or sofa!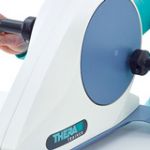 FROM LEG TO ARM TRAINER IN A MATTER OF SECONDS
THERA-Trainer Mobi and THERA-Trainer Activo can be converted from a leg to an upper body exerciser or vice versa in a matter of seconds. It's really easy: an interlock system makes it easy to swap over the handles and the foot rests. Or to switch from leg training to arm training.
Exercising with a THERA-Trainer has never been easier or more independent!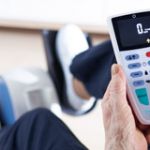 CLEAR DISPLAY & INTUITIVE CONTROL


—–
The screen is the interface between people and technology. Our developers attach great importance not only to modern screen technology but also to easy handling and clear screen displays.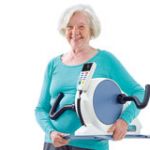 PERFECT FOR MOBILE USE


—–
Thanks to their low weight, THERA-Trainer Mobi and THERA-Trainer Activo are easy to carry. The optional THERA-Trainer Mobi carry bag makes transportation even easier. Exercise whenever and wherever it's convenient – from your chair or armchair.  In addition, the practical movement exercisers are easy to clean and disinfect.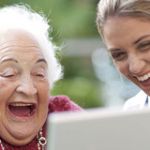 MOTIVATING SOFTWARE
THERA-soft is a therapy and documentation software especially developed for THERA-Trainers of the product lines Cycling and Standing & Balancing. Depending on the setting of the treatment and the therapeutic goal, in combination with a THERA-Trainer the software provides numerous biofeedback illustrations and movement exercises that specifically support relearning motor skills and motivate patients to train with joy.

BEST practise with thera-trainer
This THERA-Trainer can be part of your THERA-Trainer complete solution
We are offering products and solutions for all phases of rehabilitation and transferring scientific results in clinical practice.
With our THERA-Trainer Complete Solution you can put the evidence-based, clinically tested treatment concept for lower limbs into practice. It simplifies the work of the therapists, maximises the chance of success for patients and establishes the clinical researches to your clinical practice and can be implemented in each rehabilitation hospital in an economical and sustainable way.
FILL the FORM to Download important support documents